Galeto Brazilian Steakhouse: Would you like some bacon wrapped chicken?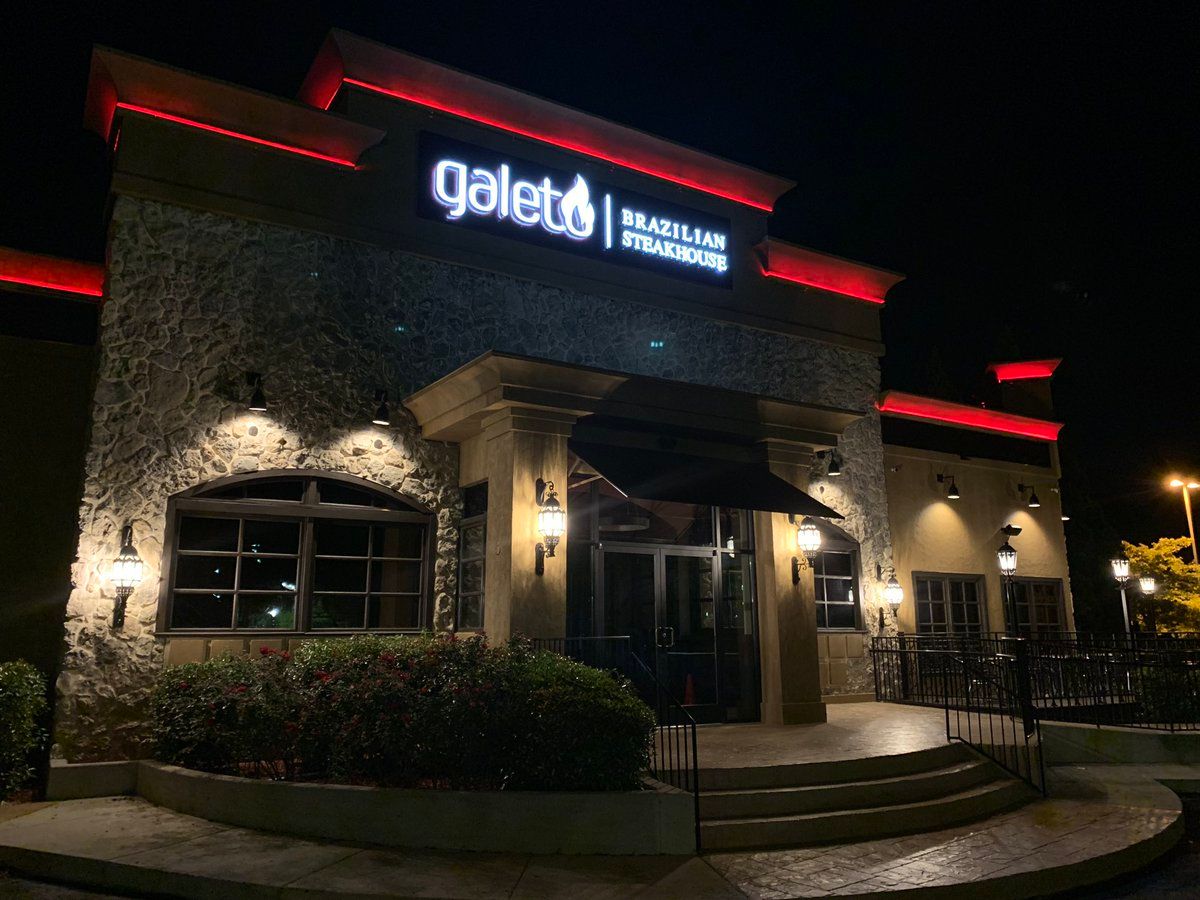 TLDR: Save your money or go to Fogo!
If you've been paying attention to Brazilian Steakhouses in the Atlanta area, you'll have noticed that Fogo de Chão gets a lot of competition, but none of it lasts very long.  A new competitor will pop up, stick around for a year or two, and then shut down.  Galeo Brazilian Steakhouse is not going to be any different.  Based on our first visit last night, I anticipate this restaurant to be closed by this time next year.
Let me start with a few positives about the restaurant.  The food was fairly good.  It's nowhere near as good as Fogo, but it wasn't bad. The grilled red potatoes from the salad bar were out of this world.  Their sangrias are also some of the best I've had.  If I were meeting some friends for drinks and we were in the mood for sangrias, I'd come back just for those.  They also have very nice wine glasses and steak knives, which I appreciate.  They didn't cut corners here and they are appropriate for a good steakhouse.
So now let's talk about what's bad about the restaurant.  Our first impression started badly just trying to get into the restaurant.  The lobby and hostess stand is one of the worst designs I've ever seen.  We had a 6:30 reservation.  We valet parked our car at 6:25.  We stood in line outside the door in the hot sun waiting for the hostesses to process the queue and get people out of the way.  There is no more than five feet between the front door and the podium, so we had to wait for them to clear people out of the way.  When we finally got to the hostess, it was about 6:40.  We were then told that there was a 30 minute wait even though we had 6:30 reservations.  Fine, we decided to wait at the bar.
We went to the bar which was completely empty.  Clearly, their idea as to get people away from the front door / lobby into the bar wasn't working.  The bar could probably seat about 20-30 people, but there were only about 5 bar stools that were made available to guests; the rest had been moved to a corner away from the bar.  We decided to sit down and wait.  It was actually quite  uncomfortable because in the  middle of the bar, sort of the sweet spot and where we were sitting, were 10-15 dirty glasses.  The servers will dumping dirty glasses there for some inexplicable reason.  After about 10 minutes, the bartender finally cleared them and offered us a drink.  This visit was not off to a good start.
When we were seated, we were given a table by the front door.  They didn't have any type of shade on the door, so the sun was blaring in and hitting me directly in the eyes.  I'm not kidding– I had to squint the entire dinner.  I should have gotten my sunglasses from the car, but I didn't want to be that guy.  It was also very hot at the table because it was hot outside and the front door stayed open while people waited to get close enough to speak with the hostess.
Our server greeted us right away, but I wish she hadn't.  She was clearly a very armature server and had no business working in this type of restaurant.  She had a very bad attitude, which persisted the entire dinner.  My four-year-old daughter asked if she could have a strawberry drink, so I asked if we could get a virgin strawberry daiquiri.  She said yes, and 20 minutes and 4 inquiries later, she finally told us that the bartender said "no, they won't make it because they are too busy".  By this time, we had cleared our salad plates and were well into our entrees.  I asked our server if we could have side items, and she said yes.  I asked 10 minutes later, and she said yes again.  I asked again 10  more minutes later and she said yes.  So now we're about 30-40 minutes into our entrees with no sides.  A manager finally walked by and checked on us.  I, complained, which I normally never do, and he apologized.  He actually went to the bar and made my daughter's drink and had someone bring out our sides.  Meanwhile, someone had cleared my plate, which I appreciated.  A gaucho then offered me bacon wrapped chicken for the fifth time, and I said sure but that I didn't have a plate.  He responded by telling me I had to get my own.  I realized I didn't have silverware so I had to get that myself too.  We skipped  dessert because we were ready to leave.  The server only came back once after I complained to present us our $200 bill.  She maintained her deplorable attitude although she did apologize for her bad service.  My response was just as disingenuous as her apology was.
It wasn't a terrible experience.  It just wasn't what you expect when you pay $50-$100 a person.  With Oak Steakhouse, Cabernet Steakhouse, Ruth's Chris Steakhouse, and Pampas Steakhouse all being in relatively close proximity, I'd say that Galeto has a lot of work to do if they want to stay in business.  They are in a good location– Alpharetta needs a great Brazilian Steakhouse– but they really need to give their front-of-the-house staff an overhaul if they want to build a local patronage.
Happy eating!
Tom Hundley
Location: 2355 Mansell Rd, Alpharetta, GA 30022
https://www.galeto.com/