Cabernet Steakhouse: Rock Salt Ribeye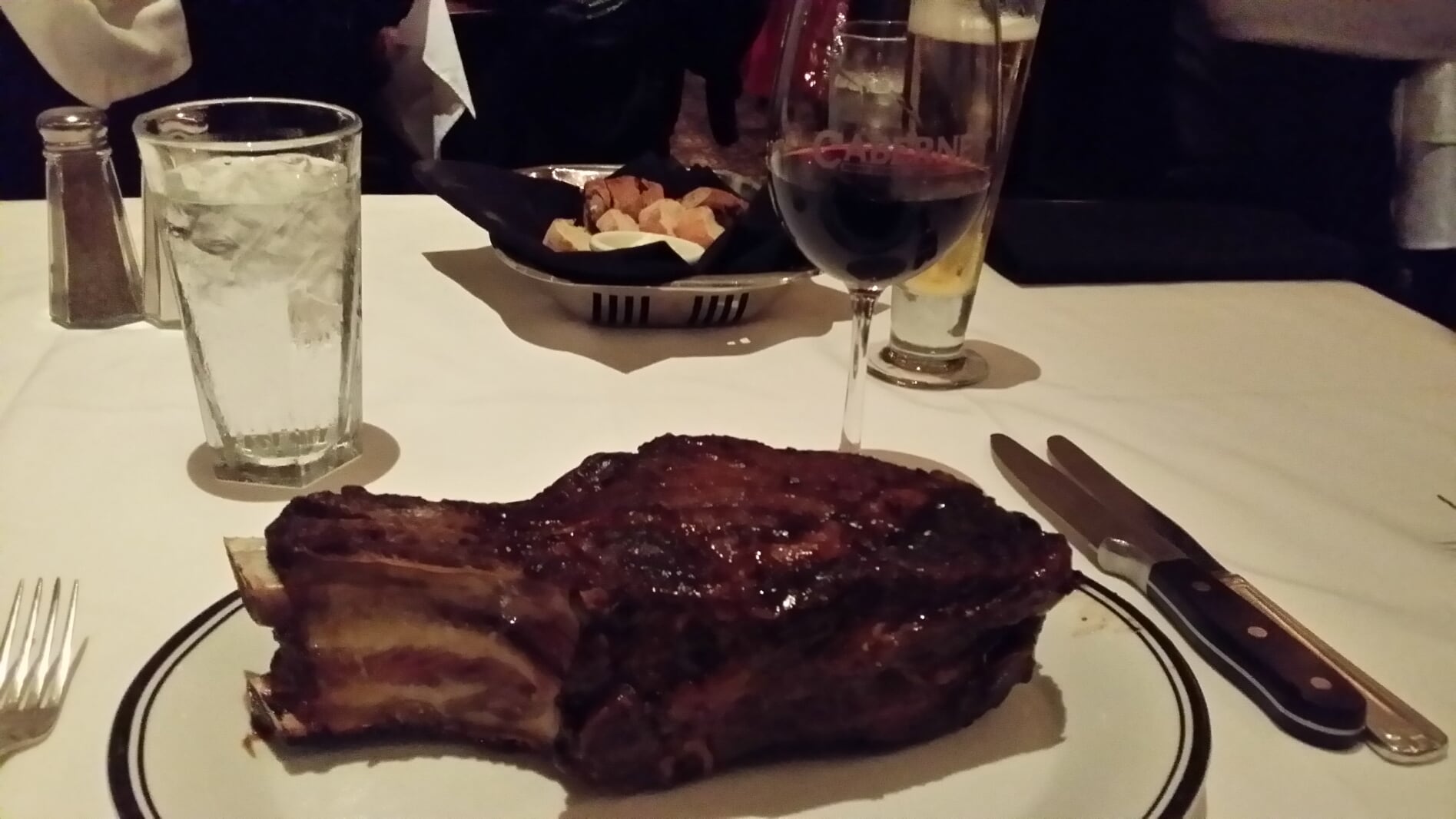 TLDR: Even if you're  a filet lover, go to Cabernet Steakhouse in Alpharetta and get the Rock Salt Ribeye!
One of the best parts about living in Atlanta is the quantity of fantastic steakhouses we have here.  Unfortunately though, there isn't a huge selection where I live, which is the northern suburbs of Atlanta: Alpharetta / Milton.  That said, things are getting better.  We've always had Cabernet Steakhouse, which is a staple.  And we've always had Pampas Steakhouse, which is also a staple.  But now we have Ruth's Chris and Oak Steakhouse, so the selection is increasing.  If you find yourself in Alpharetta or Milton and you're looking for a good steak, any of the restaurants are very good and worth visiting.  That said, however, you're a serious steak connoisseur and looking for the best the city has to offer, head south into town.  I'll write more on those steakhouses in future posts.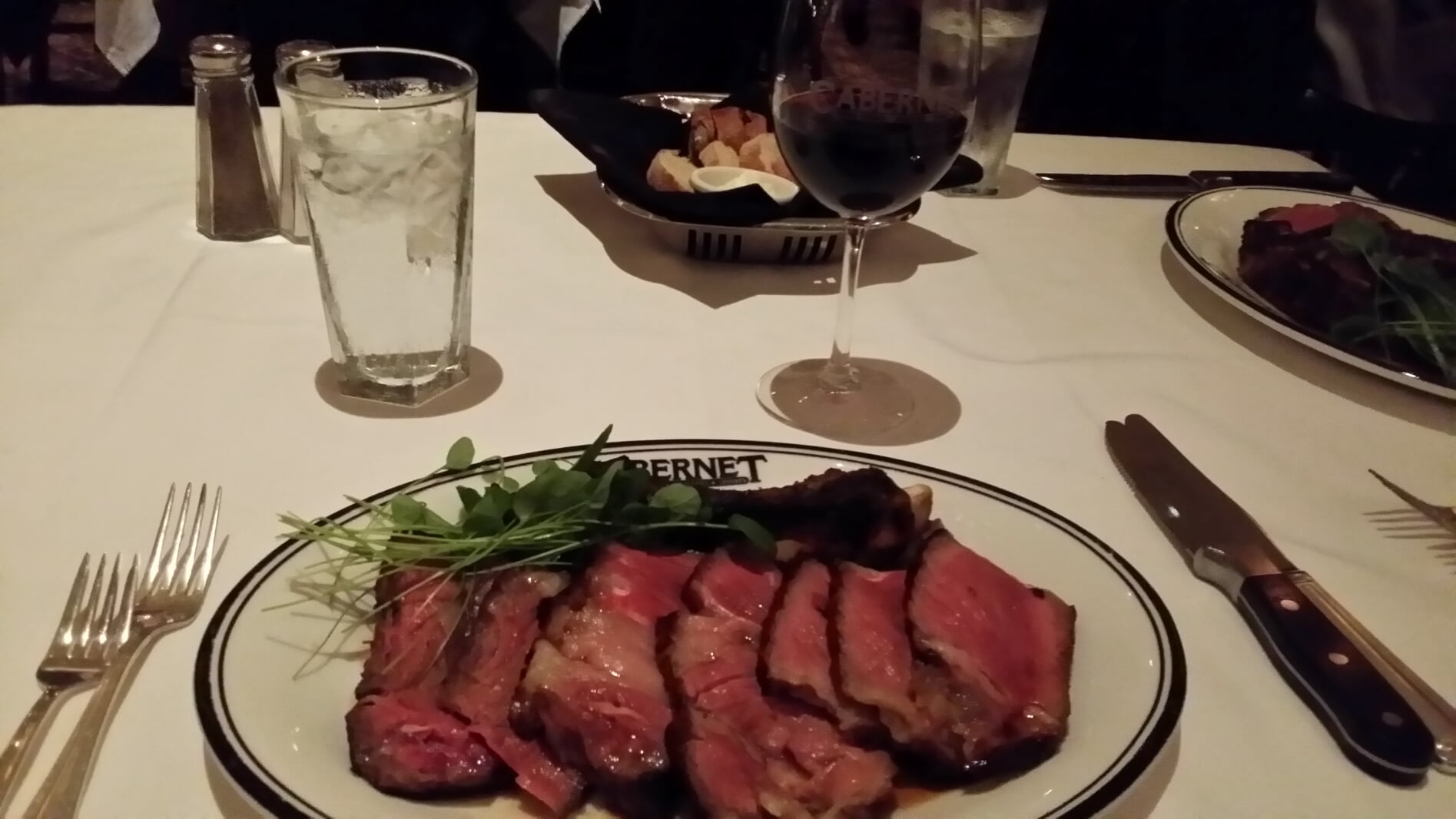 With that out of the way, I'd like to write a quick note about why you may actually want to go out of your way to head to Cabernet Steakhouse.  Beyond the relatively consistent quality and very good customer service, there are three words: Rock Salt Ribeye.  Let's be clear, I'm a filet guy.  I know that may cause outrage and discredit me with some readers, but I'm just not a fat lover.  I appreciate the flavor it adds to food, but I don't want to see it on my plate and I certainly don't want to feel it in my mouth.  But that's just me.  I know this is a very passionately debated subject.  Now that you know that about me, you need to appreciate why I'm actually recommending a ribeye.  It's simply out-of-this-world delicious.  It's a 54oz cut of ribeye for 2 and marinated in a magical brine.  If you want to try it and your companion isn't in the mood, they'll happily serve you a half portion.  Most nights, the fat isn't too bad and is worth tolerating.  They slice the ribeye for you before it's served, and it's very easy to cut around the fat.  It's of course very similar to eating a prime rib, and the ribeye lovers will devour everything on the plate.  
If they're not already famous for it, I think Cabernet Steakhouse will get famous for their Rock Salt Ribeye.  It's not always 100% great, but I'd give them an 8 out of 10.  Sometimes they have better cuts of meat than others, and sometimes they don't make it as good as they did the last time or the next time, but for the most part, it's one of the most delicious things I've had.  I highly recommend trying it but be careful- you may be like me and you may actually get addicted to it.
Location: 5575 Windward Pkwy, Alpharetta, GA 30004
https://www.cabernetsteakhouse.com/
Happy eating!
Tom Hundley